This self-paced guide with prompts along the way is for content creators and storytellers who'd like to find and work with the right brands.
---
Wondering how to pitch to brands irrespective of niche and get paid for the content you produce?
Concerned about whether or not you have anything of value to offer?
Worried what are the prerequisites before you start pitching?
Not sure what needs to go in your media kit and reports that follow?
In this course, you'll get concrete information and learn what research you need to do before you reach out to a brand, what to have with you when pitching, the art of the pitch, and how to get paid based on working with a wide variety of clients and successful paid partnerships! 
In this self-paced course:
You'll learn what research you need to do before you pitch. (These tips and techniques can be used irrespective of your niche to ensure your pitch gets the marketing representative's attention!)
The exact sections and data you should have in your media kit to showcase your potential to brands and collaborators.
How much to charge for your work — and make sure you get paid for your efforts.
Best practices to keep in touch, follow-up, and land recurring campaigns.
Once you've completed the course, you will have an option to add a one-on-one media kit and pitch review consultation for personalized feedback at a discount.
Hi I'm Lavina Dsouza. I'm an Analyst, Entrepreneur and the founder of ContinentHop.com which strives to inspire professionals to invest in immersive travel and make the most of their limited holidays while ensuring they get to explore the world, no matter how short the duration.
In addition to being a content creator from the past 7 years, I'm also a freelance writer, photographer and mentor to numerous women, helping them to start working remotely while working full-time.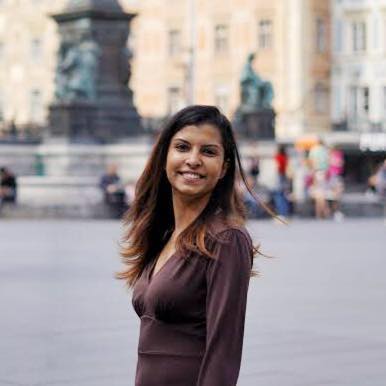 I've been nominated for various awards including one by Saveur magazine for my expertise in food, culture and travel
As your instructor, I'm here to share proven tips on how to collaborate with the brands you love and get paid fairly.
I've been hired by numerous prestigious brands over the years to help with their marketing efforts, including hotels, tourism companies, outfitters, DMOs (Destination Marketing Organizations) — like Accessorize, Visit Mauritius, and TripAdvisor to name a few.
All of them were pleased with my professionalism and the fact that I went above and beyond when delivering content, while I made sure I was paid fairly for my time. In this course, I'll share many of these strategies so that you can have the same success. Testimonials from a few brands as well as examples of my work can be found here. 

Who is this course for?
All levels of content creators who are struggling with pitching, unsure what goes in a pitch, and are looking to get paid for their work
What this course includes:
Over 26 easy-to-follow lessons

Course workbook for your prompts

Access to our private community

Lifetime access to course materials
Add-ons
For an extra fee (discounted from my regular rate), an option to add a one-on-one media kit, pitch review, and rate sheet consultation for personalized feedback
Frequently Asked Questions
What do you mean by this being a self-paced course?
This means there is no start or end date for when you can complete the course. You simply work through the material and prompts at your own pace.
This also means that there is no direct interaction with your instructor, unless you purchase the add-on portfolio review session after you've completed the course.
How long do I have access to the course?
You have lifetime access to the course materials.
What is your refund policy?
If you feel like you did not get what you were expecting from the course, you have up until 3 days after you purchased the course to request a full refund.
Have more questions? Click the blue "Contact us" button on the right side of the screen to send an email.